Homes with RV Garages: The Perfect Combination of Home and Travel
In recent years, the popularity of recreational vehicles (RVs) has soared as more people embrace the freedom and flexibility of traveling on the open road. For avid adventurers and travel enthusiasts, owning an RV motorhome is a lifestyle dream come true. However, storing these RVs can often pose a challenge. That's where homes with RV garages come in. Homes with RV garages are becoming increasingly popular as they offer the perfect solution for RV owners, providing a dedicated space to store and maintain their RVs conveniently.
Attached RV Garage or Detached RV Garage?
Some homes have attached an RV garage, while others have detached RV garage. Some garages are large enough to accommodate even the largest RVs, while others are smaller and more suitable for smaller RVs, motorhomes, or a travel trailer.
RV Garage Plans
When making home plans with an RV garage, there are a few things you should keep in mind. First, you will need to make sure that the garage is big enough to accommodate your RV. Second, you will need to make sure that the garage is located in a convenient location. Third, you will need to make sure that the garage has the features that are important to you. Consider features such as built-in storage, climate control, heated garage, floor drains, and electrical hookups. You will need to know the length and dimensions of your RV at a minimum. Your RV garage plans will also include door dimensions. You will need extra large garage doors to fit your recreational vehicle. RV garage plans allow for customization options.
Benefits of Homes with RV Garage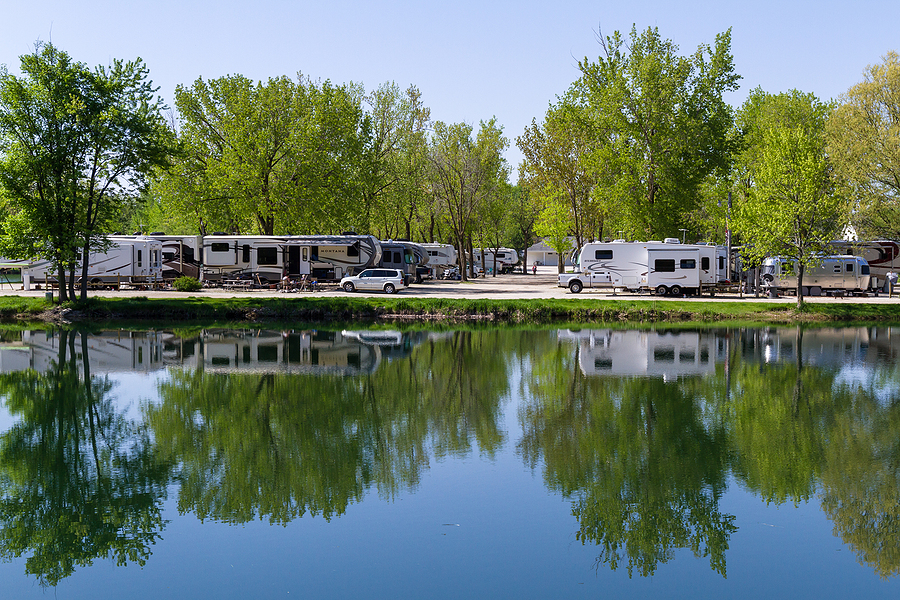 Ample Storage Space: One of the primary advantages of homes with RV garages is the abundance of storage space they provide. Traditional garages may not be designed to accommodate the size and height of an RV, making it difficult to find suitable storage options. With a dedicated RV garage, you have plenty of room to park your RV and still have space for other vehicles, tools, and equipment.
Protection from the Elements: RVs are a significant investment, and protecting them from the elements is essential for their longevity. Homes with RV garages offer an added layer of protection against harsh weather conditions such as intense sunlight, heavy rain, snow, high winds, or hail. By storing your RV in a secure garage, you can safeguard it from potential damage caused by exposure to the elements.
Convenience and Accessibility: Having an RV garage at home provides unparalleled convenience and accessibility. You can easily access your RV whenever you desire without having to arrange for off-site storage or deal with the hassle of transporting it. Whether you need to prepare for a trip or simply want to take your RV out for a weekend adventure, having it readily available in your garage makes it easy.
Enhanced Security: Homes with RV garages often come with advanced security features, which may include surveillance cameras, and alarm systems offering peace of mind to RV owners. The additional security measures help protect your recreational vehicle against theft or vandalism.
Maintenance and Versatility: RV garages provide a designated space where owners can perform routine maintenance and repairs on their vehicles. With enough space to maneuver around your RV, you can carry out necessary tasks like cleaning, servicing, or making modifications without any constraints.
Building a Home with an RV Garage
Here is a recap of a few things you should keep in mind:
The size of the RV garage: Make sure the garage is big enough to accommodate your RV. You'll also need to consider the height of the garage door, as some RVs are taller than others.
How the garage fits the design of your home: building a new home allows you to create RV garage plans that fit your home style.
The features of the garage: Some garages have built-in storage, climate control, and electrical hookups. If these features are important to you, make sure to look for a home with a garage that has them.
Location and Community Regulations: Consider the location and community regulations surrounding RV storage. Some neighborhoods may have specific rules or restrictions on RV parking, so it's crucial to ensure that the home you choose is compliant with such regulations
Detached RV Garages
There are a lot of options for detached rv garage buildings. Metal RV garages are a common solution. There are even RV garage kits. A Steel RV garage is not built to the same structural standards as an attached RV garage. You will probably not save much money by opting for a stand-alone RV building.
The cost of a home with an RV garage will vary depending on the size of the home, the size of the garage, the location of the home, and the features that are included.
RV Garage offers Storage for Cars, Boats, Campers, and More
RV garage is not limited to Recreational vehicles of course. RV garages also can provide boat storage with room for trailers, jet skis, snowmobiles, classic and collectible cars, and more. RVs may also be called a Motor Home. Standard RV doors are 12-14ft wide and 12-16ft tall. The minimum suggested height and width would be 12ft x 12ft. Class B camper vans are a class of RV homes, but much smaller. A camper van can often fit in a standard garage as long as the garage door is over 9′.
Value of a Home with an RV Garage
A home with an RV garage can be a great investment. Not only do you save money on storage you may recoup the value when you sell your home.
TJB Homes has both the experience and knowledge to build your new home with an RV Garage!
We can custom design a plan to fit your home needs.
We can modify any of our plans or we can start from scratch.
We can take your ideas and turn them into your Dream Home.