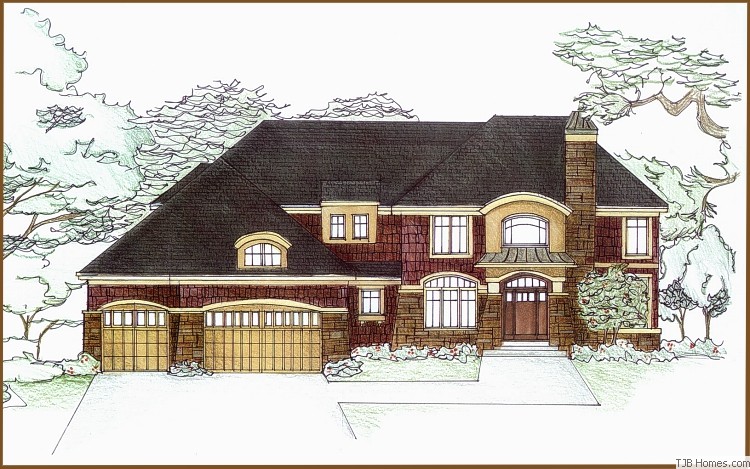 This French-Cottage inspired home is a most extraordinary new addition to The Lakes development. With three finished levels, that total 5,800 square feet, it has all of the amenities your family needs. When you enter the home Brazilian cherry wood floors lead you throughout nearly the entire main level. An abundance of large windows allow for a magnificent view of the lake and much natural light. Stained glass windows adorn the living room, the carpeted den, the master bedroom and the in-home movie theatre. The kitchen is a culinary dream featuring painted cabinets and a wood-top island. There is ample counter space with an apron front sink, a veggie sink and WOLF brand appliances. This home has six fireplaces including a three-sided fireplace in the luxurious master suite separating the sitting room from the sleeping area. The master bathroom features a whirlpool tub, two furniture-styled vanities, a linen cabinet with a built-in coffee maker, a walk-in closet with melamine shelving and its own stacked washer and dryer. The lower level is every sportsman's dream. With an exercise/hot tub room, a pool table area, a sports bar and an in-home theatre, entertaining will surely come naturally.
---

Featured in Home Appliance Issue: January 2006 Home Appliance Magazin - Click to read...

In June, the 2005 Twin Cities Luxury Home Tour opened the doors of 25 remarkable, one-of-a-kind homes. The event welcomed the public to explore these custom masterpieces, priced at more than one million dollars each. In celebration of the 5th annual year of showcasing the Twin Cities' top builders, the WOW Factor Awards were created.
The WOW Factor Awards are based on the opinions of the most important people on the tour: the guests. Each attendee had the opportunity to participate by voting for their favorite room in each home. Furthermore, the public was invited to apply to be a WOW Factor Awards judge. We received applications from many qualified and passionate people who were eager to be part of the process. Nine judges were selected to tour all 25 homes and highlight the builders' outstanding work in 10 categories.
The Best of the Best
Selected by the Judges
Family/Entertainment Room
TJB Homes, Inc. This entertainment room literally has it all, including a home theater, a wine cellar, and a beautifully appointed bar area that included four built in LCD screens. I know my husband and sons would be thrilled to spend their Sunday afternoons viewing all of the NFL games at once in such a comfortable setting.
- Anderson
Master Bedroom
TJB Homes, Inc. This bedroom is open and airy with an adjoining semi-circular sitting area, a unique gas fireplace, and a stained glass window.
- Peterson
Rooms of Distinction
Selected by Attendees
Garage
TJB Homes, Inc.
EXTERIOR SPECIFICATIONS
In-Ground Pool
Roll-in Dock
LOWER LEVEL FINISH SPECIFICATIONS
SPORTS BAR AREA
WOODWORK 3¼" CASING 3½" BASE
ALDER 6 PANEL DOORS
CARPET MAIN AREA
CERAMIC AT DOOR AND BEHIND BAR
BAR TOP CERAMIC
FULL BAR CABINETS WITH 4 BUILT IN TV'S
PAINTED 3-1/3" CEILING COVE
KNOCK DOWN CEILINGS
ENTERTAINMENT CENTER
GAS FIREPLACE WITH RAISED HEARTH AND STONE FACE
BAR CABINETS - SEE BUILDER FOR DESIGN
WINE ROOM
SPECIAL BRONZE DOOR
METAL WALL WINE HOLDERS
CONDENSER UNIT
CERAMIC FLOOR
BATH
CERAMIC FLOOR
UPGRADED FIXTURE
CULTURED GRANITE TOP
DESIGNER MIRROR
ALDER 6 PANEL DOOR
ALDER WOOD WORK
SPA
FLOOR DRAIN IN CERAMIC NEXT TO TUB
POSSIBLE STONE DETAIL AROUND TUB
GLASS DOOR TO ROOM WITH WORD "LAKES SPA"
ADD PATIO DOOR
BUILT IN ONE PIECE HOT TUB
RECESS IN TO FLOOR 18"
CERAMIC TOP ALONG SPA (VERIFY WITH BUILDER)
CLEAR CEDAR WALLS AND CEILING, SHEET ROCK CEILING WITH WATER ROCK
FOAM WALLS AND CEILING IN SPA
DEDICATED AIR EXCHANGER
FAN WITH HUMIDISTAT SWITCH AND TIMER
FULL MIRROR ALONG STAIRWAY WALL
SHOWER ROOM ALL CERAMIC FLOORS AND WAINSCOTING
BENCH WITH HOOKS OVER DO IN CERAMIC
BUILT IN WITH BAR SINK
CABLE TV HOOKUP
CERAMIC IN FRONT OF TUB AND IN FRONT OF DOOR ON FLOOR
NOTE: TOP OF HOT TUB LEDGE MAY BE CEDAR. WE NEED TO FIGURE OUT ACCESS AREAS.
SAUNA
CLEAR CEDAR IN SAUNA
CERAMIC FLOOR
CERAMIC 12" UP WALL
DRAIN IN SAUNA
COLD WATER SPIGOT TO SAUNA
FOAM WALLS AND CEILING
THEATER ROOM
CHERRY TRIM
DOUBLE CHERRY DOOR TO ROOM
LIGHT BOX OVER DOOR
BUILT IN SCREEN
CHERRY WAINSCOTTING
CHERRY COVE
HEAT
WIRSBO IN LOWER LEVEL AND MASTER BATHROOM
NO HEAT IN WINE ROOM FLOOR
MECHANICAL ROOM
BUILD IN SHELVES
Revved up
GARAGES
IT'S NO LONGER YOUR FATHER'S OLDSMOBILE and its certainly not his garage. With the blink of an eye, garages have gone from utilitarian storage spaces to living spaces. Think epoxy floors, sound systems, custom cabinetry and fine finishes. The garage is no longer ignored but celebrated, taking a front seat to renovation as well as scrutiny when purchasing a new home and resale-value consideration. In fact, a consumer survey by Century 21 several years ago found that garages ranked as the most Important amenity in a home, followed by large kitchens, dining rooms and big yards.
TJB Homes; photo courtesy of Landmark Photography & Design
Credit:
Midwest Home
September 2005, a supplement to Minnesota Monthly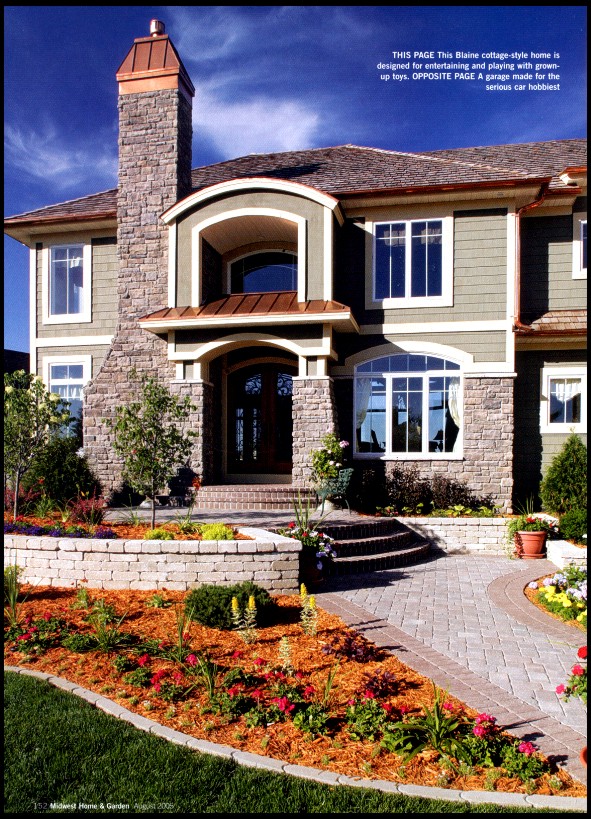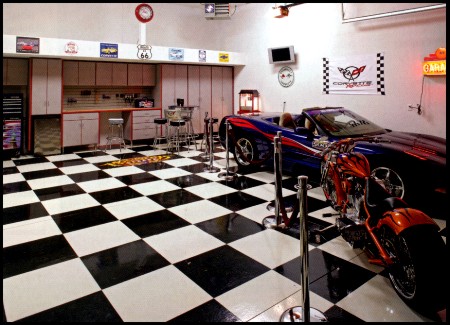 toys for all ages
A plush home brings out the kid in all of us
BY JAMES WALSH ~ PHOTOGRAPHS BY LANDMARK PHOTOGRAPHY & DESIGN
A three-plus-car garage just meant for tinkering with a sporty ride. A private dock on a man-made lake. A luxurious spa tucked away in a lower-level grotto.
This Blaine home has all the active lifestyle accoutrements a growing family could want, says Tom Budzynski, president of TJB Homes Inc. It's a luxury home for someone who recently "made it" and now wants to settle down-albeit with room for plenty of grownup toys.
"The guy who moves in here is going to be the common type person who did well," Budzynski says.
The French cottage-style, two-story home is just minutes from a golf course and a sports center in Blaine. The 5,800 square-foot home is in a community filled with families.
"This home is designed for entertaining," says Budzynski. "I see the family who owns this home as being in their later 30s or early 40s, two-incomes with one of them being a business owner or a broker. It's a home for people who want a neighborhood, but still want a lot of activity."
An imported Mexican bronze fountain greets visitors as they approach the house. An impressive stone and copper chimney joins the stone and hardwood exterior to create an Old World feel.
Six fireplaces and rich Brazilian cherry flooring warm the interiors. Hand-painted moldings and artwork abound, filling niches with rich colors. The 18-foot high wall of bay windows in the great room looks out over the pool area and lake. Stained glass windows give a splash of color to the library, and the built-in cherry bookshelves and see-through fireplace provide traditional style to this modern space.
BUILDER:
TJB Homes, Inc.

HOME LOCATION:
Blaine

SUPPLIERS:
Anchor Block Company
Furniture Manor
Guyer's Builder Supply
Harmony Melamine
Creations by Scherer
Bros. Cabinet Division
James Hardie
Siding Products
LakeView Appliance
Distributing Peters Billiards
Pipeline Supply/Kohler
Rubble Tile
Waterproofing, Inc

PHOTO: The lower-level hot tub nestles in a stone grotto.

PHOTO: The great room's 18-foot high bay windows fill the space with lake views.
The open kitchen, which overlooks the lake, centers on a Brazilian cherry island. Glazed cabinets and light green granite countertops lend a bright cheeriness to the space. A small hearth area opens to a deck with a built-in grill and side burner. A spiral staircase leads down to the pool and garden.
Upstairs, the home's four bedrooms each have a distinctive look. The guest suite is done in a Floridian style, as Budzynski describes it. Bright, breezy, and cool, the bath has a pedestal sink and stone tile shower. Children's bedrooms flank a Jack-and-Jill bath decorated in light green with painted dragonflies on the walls.
The master suite has an octagonal sitting area overlooking the lake with a cyclone fireplace. A curved glass wall separates the double, doorless shower from the rest of the master bath, where furniture-style vanities and columns provide sensual design. Don't want to walk down to the kitchen for your morning cup of coffee? Brew a cup in the master bath's built-in coffee maker and grab your cream from the under-counter refrigerator. A washer and drier are conveniently located in the suite's walk-in closet.
Now, on to the toys.
The lower level has what Budzynski calls "The Sports Bar," surrounded by four televisions to pick up games all over the globe. A Texas Hold 'em table rests at the center of the room. A climate-controlled wine cellar, with a door of imported Mexican bronzed iron, keeps a tight seal. A 60-inch plasma television is the centerpiece of the nearby sitting area. But a 100-inch projection television in the home theater, complete with recliners and cupholders, promises to draw a crowd of guests. "This is one of my favorite rooms in the house," Budzynski says.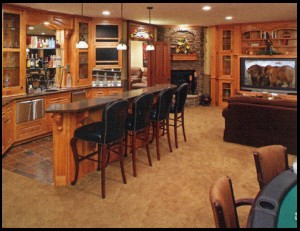 At the other end of the lower level is the "The Lakes Spa," a glass-walled home workout studio with a sauna and a hot tub in a stone grotto. A walkout leads to the outdoor patio and pool. A firepit is situated near the dock.
For more practical concerns, a concrete safe room with a bank safe door also can be found in the lower level.
Topping off the toy list is the home's garage. Really a heated shop, with tool and machine storage space, Budzynski says this is the space for the guy who wants to work on his favorite car. "And we're not talking foreign-made," he says, pointing out the Corvette decor, along with the checkerboard pattern floor, "American-made."
PHOTO The "sports bar" is surrounded with televisions that pick up games from around the globe.
PHOTO The home's spaces are both impressive and practical.
PHOTO A cheery kitchen that cooks-and features a Brazilian cherry island, glazed cabinets, and granite countertops.
James Walsh is a reporter at the Star Tribune.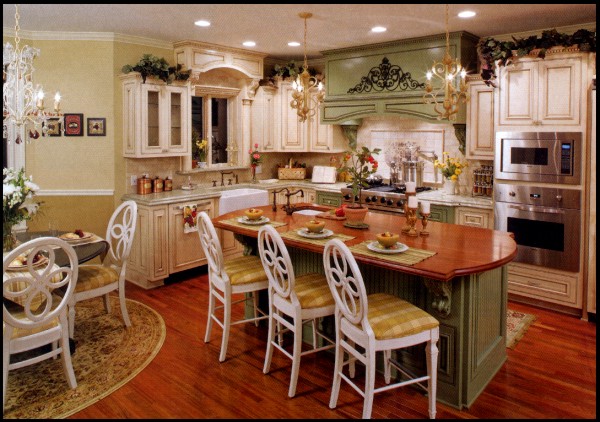 Credit: Midwest Home & Garden August 2005