TJB Homes in Blaine wants to entice just four buyers to spend $1 million or more for a year-round vacation home on a private 10-acre chunk of wilderness nestled along County Road 54/20th Avenue between I-35E and the eastern shore of Amelia Lake.
Read full story below...
Note Lots holds being taken
Construction starting Spring 2021
Lots 10 acres in size
Heavily wooded lots with lots of topography.
Private well and Septic system and long driveways.
All Lots Are $260K
Borders on Lake Amelia a DNR Environmental Lake which is 194 acres in size.
Custom Upper Bracket New homes By TJB Homes, Inc.
See our models in Lake Elmo, Edina and Eagan.
Lino Lakes, Anoka County ~ Four 10 Acre Lots ~ White Bear Lake Schools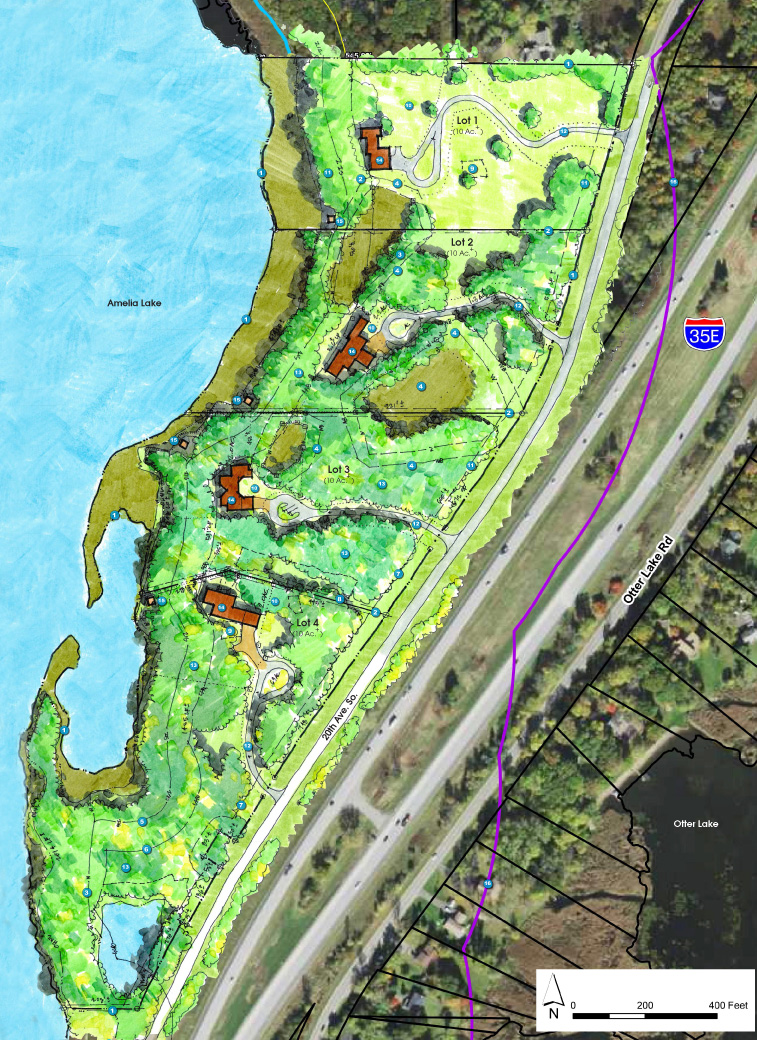 Builder pitches vacation homes in suburbs
Lino Lakes is a Twin Cities suburb of about 21,000 just south of the point where drivers on the east and west routes of Interstate 35 leave suburban residents behind and squeeze into the shared lanes leading "up north" to Duluth and the North Shore.
The Minnesota Department of Revenue has reported 97 single-family home sales in Lino Lakes so far this year, with residential contractors listed as the sellers in a significant percentage of them. Only five of those homes have logged price tags of $500,000 or higher.
Now veteran builder Tom Budzynski of TJB Homes in Blaine is hoping he can lure just four of those weekend drivers to pull over and spend $1 million or more for a year-round vacation home on a private 10-acre chunk of wilderness nestled along County Road 54/20th Avenue between I-35E and the eastern shore of Amelia Lake.
"The land is gorgeous and so close in," said Budzynski, an avid sportsman. "It's kind of got an 'up north' feel to it."
Lots are $260,000. The 195-acre lake is too shallow for motorized boat traffic, but can be used for canoes and paddle boards. Each lot has room for a high-end house and a large auxiliary building for a business or storage of outdoor toys and gear. Budzynski, the exclusive builder for the homes, expects total costs for each finished residence will range from $850,000 to $1 million or more.
Budzynski says his targets are suburbanites who want more space and more privacy, vacation home owners who are tired of spending so much of their time in the car and entrepreneurs who want to work at home but need a large physical space to do it.
The new development, called Lake Amelia Woods, is a complete departure from the project Budzynski helped local property owners John and Patricia Commers develop in 2017. That ambitious plan included 192 market-rate apartments, 20 twin homes and 240 senior assisted-living facilities, adding up to a total of 452 units.
The plan proved to be too ambitious for the area. City Planner Katie Larsen explained that the city's master plan doesn't slate the lakeshore for development until after 2030. Lack of city water and utilities, limited traffic access and wetlands all pose challenges to development, she said.
Budzynski said plans to connect to utilities in nearby White Bear Lake fell through, so he and the Commers decided to use the area's privacy and natural beauty to their advantage. And while the finished home prices are high for the area, having just four lots allows them to focus on a narrow buyer pool and still succeed.
Budzynski said he has taken risks before over his long career. He did remodeling for nine years before logging the last 40 years as the head of his company, which now includes two sons and one son-in-law. He has been featured eight times on the DIY network's Bath Crashers and twice on Extreme Makeover.
Today the company builds between 20 and 30 homes a year, from Afton to Blaine and from upscale neighborhoods in Edina to the woods of Balsam Lake, Wisconsin.
Now comes the wait to see whether Budzynski gets enough calls to make this gamble pay off or heads back to the drawing board.
Of course, it just needs to ring four times.
Copyright © 2020 Finance & Commerce By: Anne Bretts
We Consider Trades ~ We Will Build On Your Lot ~ For More Info Call (763) 780-2944